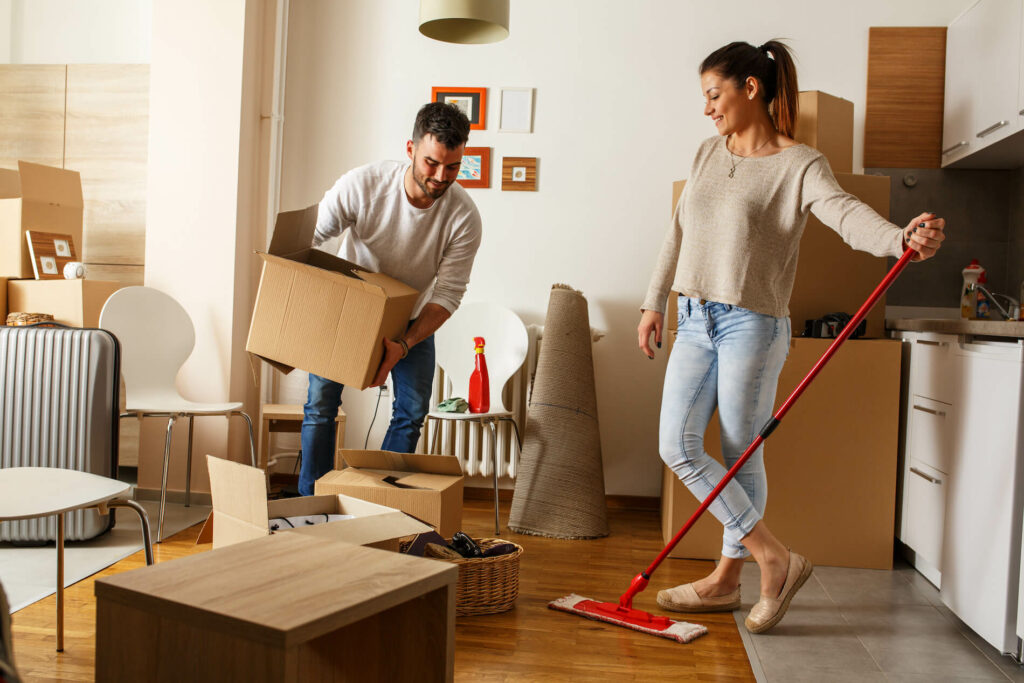 Picture this: you've finally found the perfect new house, signed the lease or closed the deal, and now it's time to move in. There's nothing quite like the excitement of starting fresh in a new home, but before you get too comfy, there's one crucial step to tackle – cleaning. After all, you want to make sure your new abode is spick and span before settling in. And trust me, as someone who's moved more times than I can count, I know a thing or two about the importance of a thorough clean.
So, what exactly should you clean when moving into a new house? Don't fret, we've got you covered. In this article, we'll walk you through a comprehensive checklist, and provide some handy tips on how to clean a new house before moving in. And if you're in Ireland, we'll also touch on some professional cleaning services you might consider, including our very own Everclean's End of Tenancy Cleaning service .
What to clean when moving into a new house checklist
Before diving in, it's essential to have a clear plan of action. This handy checklist will ensure you don't miss a thing:
Kitchen: appliances, countertops, cabinets, sink, and floors
Bathrooms: toilets, sinks, showers, bathtubs, and floors
Bedrooms: closets, floors, windows, and light fixtures
Living areas: floors, windows, baseboards, and light fixtures
Utility areas: washer, dryer, water heater, and HVAC system
How to clean a new house before moving in
With your checklist in hand, it's time to get down to business. Here are some tips on how to deep clean a house before moving in:
Start from top to bottom: Clean higher surfaces first, like light fixtures and ceiling fans, to avoid spreading dust onto freshly cleaned areas below.
Use appropriate cleaning supplies: For instance, use a microfiber cloth for dusting, a stiff brush for scrubbing grime, and a vacuum cleaner for carpets and rugs.
Disinfect high-touch areas: Door handles, light switches, and countertops are prime spots for germs, so make sure to give them a thorough wipe down with disinfectant.
Don't forget the windows: Clean windows inside and out to let in as much natural light as possible, making your new home bright and inviting.
End of tenancy cleaning Dublin checklist
If you're moving out of a rented property in Dublin, you'll want to leave the place spotless to secure your deposit. An end of tenancy cleaning checklist might include:
Deep cleaning the kitchen and bathrooms
Dusting and wiping all surfaces, including baseboards and moldings
Cleaning carpets, upholstery, and curtains
Washing windows, mirrors, and glass surfaces
Disposing of any trash and debris
Professional cleaning services for new tenants
Sometimes, life gets in the way, and you might not have the time or energy to tackle a deep clean on your own. If that's the case, consider hiring professional deep cleaning services in Dublin, like Everclean. We offer a range of services for new tenants, including:
Housekeeping services for new tenants
When moving into a new home, it's not just about the initial deep clean; it's also about keeping it clean and organized in the long run. That's where housekeeping services come in handy. Hiring a housekeeper in Dublin can help you maintain a clean and comfortable living space, giving you more time to focus on what really matters, like enjoying your new home and creating lasting memories.
Move-out cleaning services checklist
If you're moving out of your current home, you'll want to ensure it's left in tip-top condition, especially if you're a tenant hoping to secure your deposit. A move-out cleaning checklist can be a lifesaver in this situation, and might include:
Cleaning and sanitizing all kitchen appliances, countertops, and cabinets
Thoroughly cleaning bathrooms, including toilets, sinks, showers, and bathtubs
Vacuuming and mopping all floors
Dusting and wiping down surfaces, such as baseboards, moldings, and light fixtures
Cleaning windows, mirrors, and other glass surfaces
Removing all trash and debris from the property
In conclusion, moving into a new house can be both an exciting and daunting experience. But with a comprehensive cleaning checklist and a bit of elbow grease (or the help of professional cleaning services like Everclean), you can transform your new place into a clean, comfortable, and welcoming home in no time. So, roll up your sleeves, or give us a call, and let's get your new house ready for move-in day!