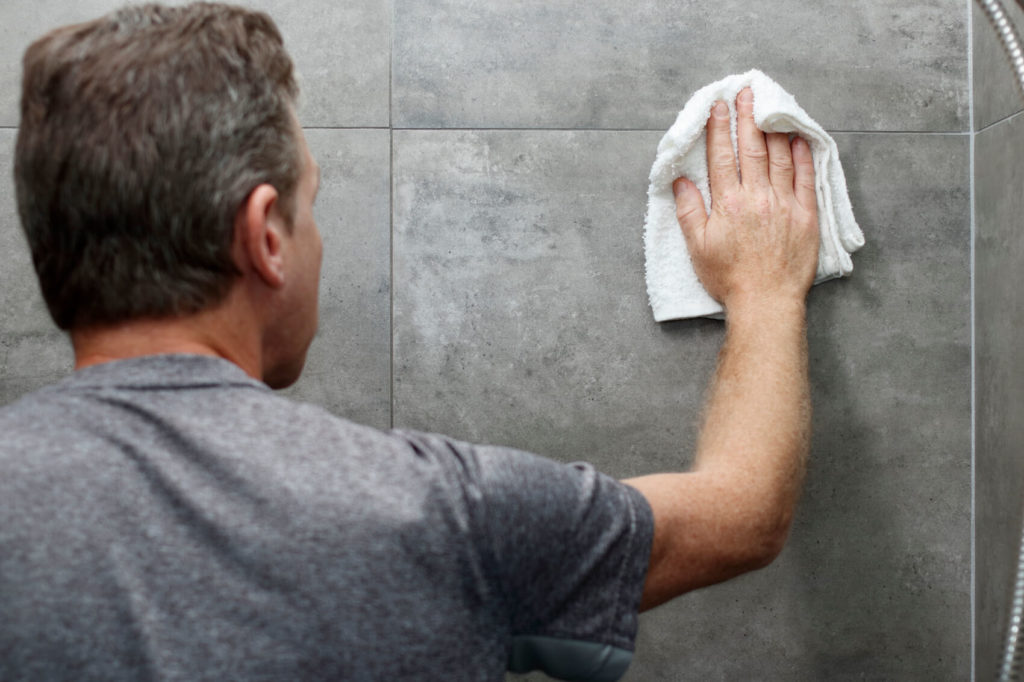 Are you considering renovating your home? If so, one of the many tasks you'll need to undertake is cleaning the tiles. However, it's not as simple as just giving them a quick scrub – there are specific ways and products you should use to achieve the best possible results. Keep reading for more information.
Step 1 – Preparation
Mix the following ingredients to wash grout and other dirt that has accumulated on ceramic tiles:
The rubber scraper or T-shaped spatula.
Hoover.
An item of felt.
Ammonia or vinegar.
An antibacterial ingredient.
Gloves.
Small brush (toothbrush).
A special ceramic tile cleaner or an alkaline gel (dishwashing liquid Cinderella, Cillit window cleaner, soap and water are all acceptable).
Step 2 – cleaning mechanically
The grout and dust are visible on the tile's surface after installation. As a result, any lumps of mortar should be removed from the tiles before they are cleaned.
Using a hoover, clean up dirt and dust. Scrape any grout or primer that is left over with a trowel. Make careful not to harm the coating while doing this procedure. Using your felt, rub the surface very vigorously once all of the tiles have been removed. Once the tiles have dried, clean both areas again.
You may use the following materials if you're concerned about scratching delicate surfaces during thorough cleaning:
Glue – Cleanse the area with a cloth moistened with ammonia.
Lime – Use the diluted vinegar or vegetable oils (200 milliliters per Liter of water).
Note: Do not use metal brushes to clean. An alternative can be using a sponge made of melamine and a steam cleaner.
Step 3 – thoroughly clean
You'll have to wash the entire surface thoroughly after cleaning to ensure that all tiles and joints are spotless.
Tips: Before you start to work, take a breather with steam to clean bathrooms tiles. The hot water faucet should be opened and close the doors and then leave the bathroom for about 30 minutes.
Spray the detergent on the tiles. If it's a special product, use bottles that come with the spray gun. If it's a soap or other solution, make sure to wet the surfaces using sponges.
Clean the dirt off the surface using a rag.
Clean the joints by with a gel, non-abrasive powder and a soft bristle, take away the dirt between the tiles.
Clean the cloth using fresh water and then wash away any residues of detergent.
Once the surface is dry after drying, treat the joint with an antimicrobial to stop the growth of fungal organisms.
Beware: Do not wash your tiles with harsh or acid-based hydrochloric powders. The abrasives and caustics in the glaze can harm it. If you're using chemicals that foam, make sure the room's air circulation is adequate and avoid breathing chemicals vapors.
If there is discoloration
Dirt and soap will be visible on the floor after washing the tiles. If the tiles are dry but have streaks or marks, wipe the surface with a gentle vinegar solution (do not use the foaming product).
How to maintain tile clean for a long time
Over time, tile can become stained and discolored again. To keep your tile looking its best, it is important to follow a few simple tips.
First, always sweep or vacuum your tile floors regularly to remove dirt and debris.
Second, mop the floors using a gentle cleanser and plenty of water. Be sure to wring out the mop thoroughly to avoid leaving streaks or residue behind.
Third, wipe down tile surfaces with a damp cloth to prevent staining. Finally, if you do notice any stains or buildup on your tile, be sure to clean them immediately.
By following these simple tips, you can keep your tile floors and surfaces looking clean and new for years to come. The tiles should be cleaned at least once a month to keep them looking good for years.
Still need help?
Even if you have the most up-to-date knowledge and tools, cleaning tiles after renovating your property may be a time-consuming business. Our our professional after builders cleaning service can help cleaning your newly renovated home from top to bottom, leaving no detail overlooked. Contact us for a free quotation.