Steps for cleaning the most common stains from leather sofas:
Mix equal parts of water and vinegar in a bowl. Vinegar removes stains from leather, neutralizes food odors, and keeps the quality of your leather. Best of all, it also leaves it looking fresh & new!
Use a vacuum cleaner to remove dust, dirt and other particles from the surface of the leather sofa.
Dip a soft fabric in the leather cleaning solution, squeeze it out until it is barely moist, and begin wiping the dirty parts of the leather.
How to clean oil & grease stains from leather sofa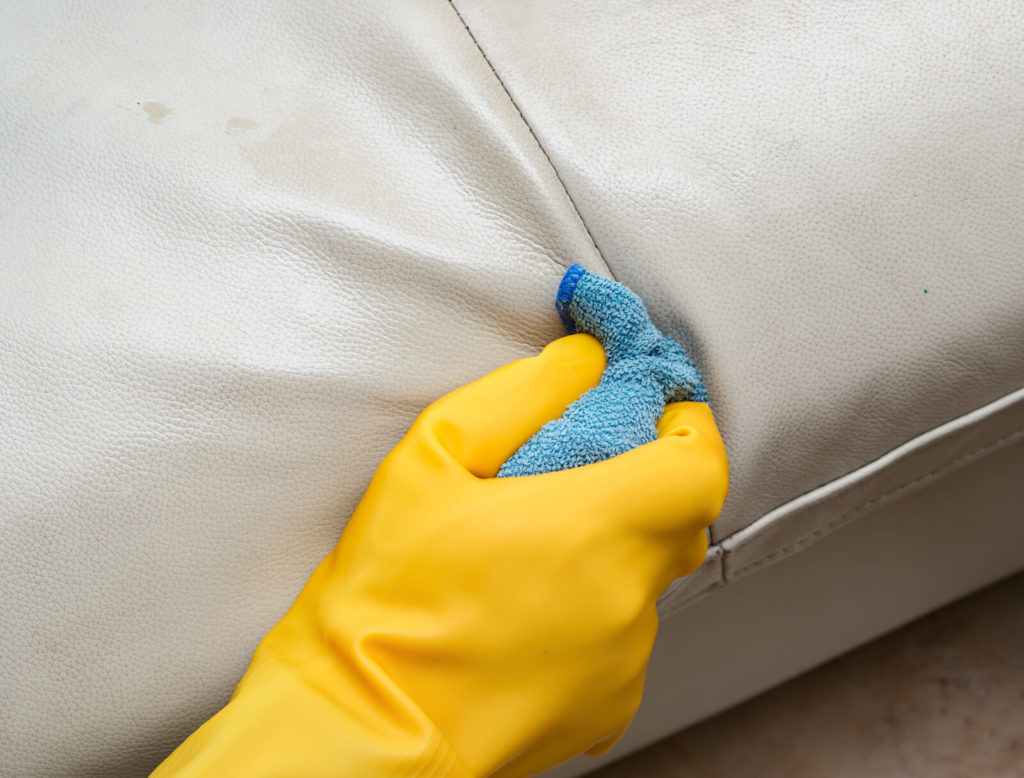 It is important to remove grease or oil as soon as they appear. With a little time and the correct products, you can avoid any possibility of a permanent stain.
Collect as much grease as possible with paper towels.
Sprinkle baking soda over the stain and leave it for a couple of hours, or until the grease, oil is absorbed. Baking soda absorbs grease inside the crystals and just a small amount of it remains on the leather. That's because baking soda is a good absorbent.
Use a stain remover spray or active foam for leather (you can find these products in almost any store). The stain remover is suitable for spot application on a grease-stained surface. The active foam is more appropriate for removing large oil stains.
Remove any remaining dirt or grease and wipe the leather with a soft fabric. Wipe dirty areas of the leather with a moist fabric.
For particularly difficult grease or oil stains on a leather sofa, you may need the assistance of professional upholstery cleaning services.
How to clean ink stains from white leather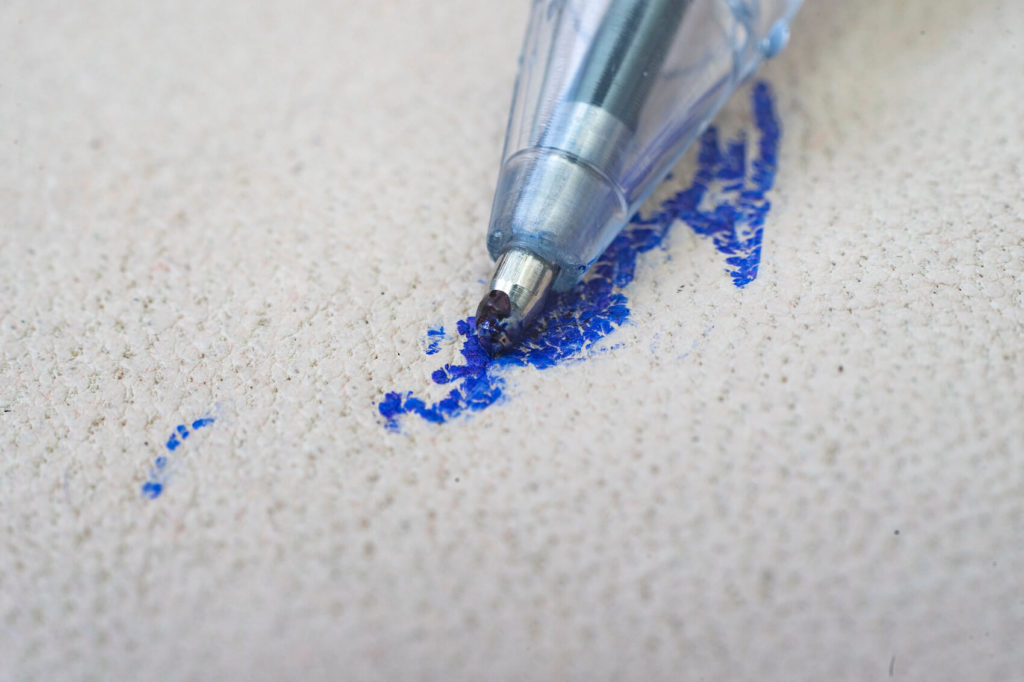 These 6 methods listed below have been repeatedly tested and are very effective:
Alcohol-based stain remover can help remove ballpoint pen stains from leather upholstery. Wipe the stain with a cotton pad and wash off the solvent with soapy water.
A foam of liquid dishwashing detergent can easily wash away ink stains from a sofa. The advantage of this method is that it is gentle on the leather upholstery. Sometimes, though, certain kinds of ink are hard to remove this way.
Hairspray is also useful in removing ink stains from leather. Solvents contained in the product start to dissolve the ink on contact. Then you can easily rinse the surface with water.
Use nail polish remover. Apply a small amount of product to the stain, then leave it for a few minutes. After that, the stain should be removed with a moist fabric.
The face cream is a gentle and convenient tool for removing dirt from natural leather. The cream does not discolor, does not harm the skin, and is effective – one of the best tools for cleaning leather.
Light-colored upholstery can be cleaned with a solution of 1 tsp ammonia and a few drops of glycerin. Apply the mixture to the stain, wait a few minutes, then wash it off with a damp fabric.
How to clean coffee stains from white leather
Blot the coffee stain well with a paper towel or a clean fabric to remove as much of it as possible. They'll absorb the coffee better, rather than something else.
Using a wet microfiber fabric with a couple of drops of liquid soap, gently scrub the stain to make it foam. Wait 3–5 minutes while the soap works.
Use a clean damp fabric to wipe off any soapy residue. Check for coffee stains in the seams, if there are any, repeat the foam treatment until the stain no longer appears.
Expert advice: Apply a leather conditioner after cleaning
To restore moisture and suppleness of the leather, use a leather cream or conditioner every 5 to 10 months. You should also check the care label on your sofa's upholstery to identify the best product.
How to prevent white leather sofa from yellowing
The color of leather can change over time with exposure to air pollution and natural oxidation processes that break down the fibers of the leather. To keep leather white as long as possible, there are some things you can do:
Keep your leather sofa clean;
Use a leather conditioner once 5 to 10 months;
Clean the leather regularly;
Protect your sofa leather from spills;
Avoid exposing it to direct sunlight;
Clean the dust from the bottom of your sofa regularly;
Use the right type of vacuum cleaner for your leather upholstery.
Still need help? Get help removing stains from your leather today…
To book an upholstery cleaning service, please visit our book an appointment page or call us at 01 503 7011 today for a free quote!
Read our customer reviews to learn what they think of our cleaning services.