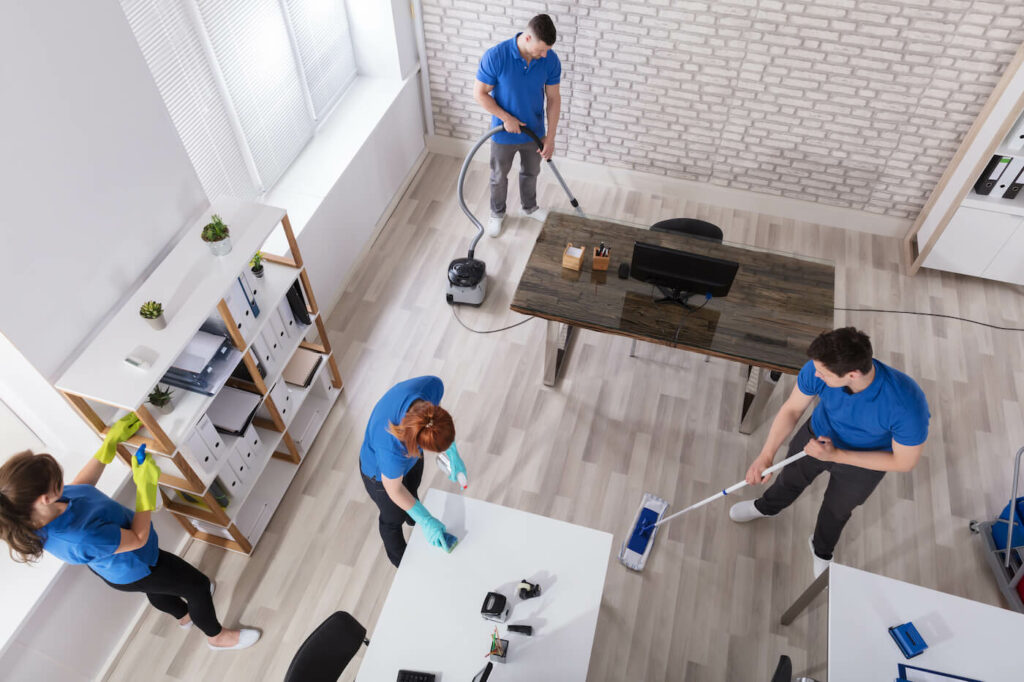 A clean and well-maintained space is essential for a comfortable living and working environment. To achieve this, it's crucial to understand the different cleaning methods employed by professional cleaning companies for their various services.
In this comprehensive guide, we'll explore some of the most effective techniques used by these experts to help you make informed decisions about your cleaning needs. We'll also provide links to more in-depth information on our website, so you can further explore the services that best suit your needs.
One-Off Deep Cleaning
A one-off deep cleaning service is designed to thoroughly clean your space, addressing areas that may not be covered in routine cleaning. Companies use the following methods to ensure an all-encompassing deep clean:
High-pressure steam cleaning: This method involves using steam to dissolve dirt and grime, making it easier to remove. It's particularly effective for cleaning hard-to-reach areas and surfaces that are sensitive to water. Learn more about our steam cleaning services here.
HEPA vacuuming: High-efficiency particulate air (HEPA) vacuums trap tiny particles, ensuring a thorough removal of dust, allergens, and other pollutants. Discover the benefits of HEPA vacuuming here.
Detailing: Professional cleaners pay attention to details such as baseboards, doorframes, and window sills, using specialized tools and cleaning agents to remove stubborn dirt.
End of Tenancy Cleaning
End of tenancy cleaning aims to restore a rental property to its original condition. To achieve this, cleaning companies use the following techniques:
Carpet cleaning: Using hot water extraction or steam cleaning, professionals remove stains, dirt, and allergens from carpets, leaving them fresh and clean. Explore our comprehensive carpet cleaning services here.
Appliance cleaning: Companies clean and sanitize appliances, such as ovens, refrigerators, and washing machines, ensuring they're in good working order for the next tenant.
After Builders Cleaning
Cleaning after a construction or renovation project, companies employ specific methods to eliminate dust, debris, and dirt, including:
Dust removal: Professionals use HEPA vacuums and microfiber cloths to remove fine construction dust from surfaces and fixtures. Learn more about our post-construction dust removal services here.
Debris disposal: Companies safely remove and dispose of larger debris, such as nails, screws, and other construction waste.
Window cleaning: After builders cleaning often includes window cleaning to remove paint splatters, stickers, and dust from glass surfaces.
Carpet Cleaning
To keep carpets looking their best, cleaning companies use the following methods:
Hot water extraction: Also known as steam cleaning, this method injects hot water and cleaning solution into the carpet, then extracts the water, dirt, and contaminants.
Dry cleaning: This low-moisture method uses a specialized machine to apply a cleaning solution and then extracts it using absorbent pads, leaving carpets clean and dry.
Upholstery Cleaning
For upholstery cleaning, companies use these techniques to remove stains, dirt, and allergens:
Steam cleaning: This method uses hot water and a cleaning solution to penetrate upholstery fibers, loosening dirt and stains for easy removal.
Dry foam cleaning: A foam cleaning solution is applied to the upholstery and then extracted, removing dirt and stains without over-wetting the fabric.
Bathroom Cleaning
To maintain a clean and hygienic bathroom, professional cleaners use these methods:
Tile and grout cleaning: Companies use specialized tools and cleaning solutions to remove soap scum, mold, and mildew from tile and grout surfaces. Explore our tile and grout cleaning services here.
Sanitization: Cleaners use EPA-approved disinfectants to kill germs and bacteria on surfaces such as toilets, sinks, and bathtubs. Discover the importance of our bathroom sanitization services here.
Fixture polishing: To restore shine and remove water spots from fixtures, professionals use appropriate cleaning agents and polishing techniques.
Conclusion
Understanding the various cleaning methods used by professional cleaning companies can help you make informed decisions about the services you need for your home or business.
From one-off deep cleaning to specialized services like carpet and upholstery cleaning, these expert techniques ensure your space remains clean, comfortable, and well-maintained.
By choosing a reliable cleaning company like Everclean that employs these proven methods, you can enjoy a spotless environment without the hassle of doing it yourself. Visit our cleaning services page to explore our full range of services and find the perfect cleaning solution for your needs.