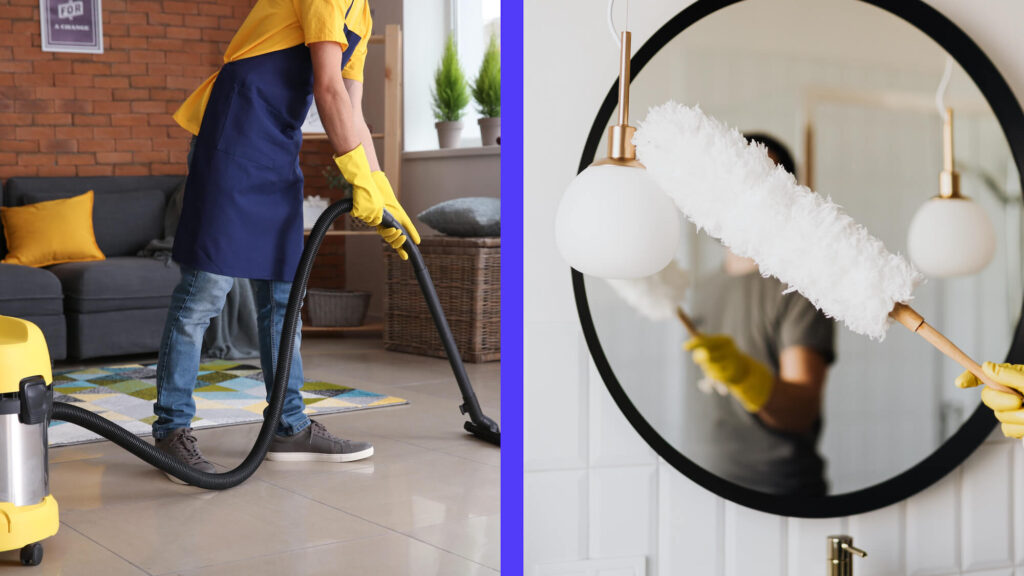 Keeping your home clean is important for both health and happiness. But with busy schedules, it can be hard to stay on top of dusting, scrubbing, vacuuming, and all those tedious cleaning tasks.
Hiring professional cleaners can take this burden off your shoulders so you have more time for family, work, and leisure. With cleaning services, you have two main options: regular cleaning or deep cleaning.
Regular cleaning tackles daily mess and upkeep—the basics needed to keep a tidy home. Deep cleaning is a thorough scrub-down that handles grime buildup, sanitizes surfaces, and makes everything sparkle.
Both service types have value. This guide will outline the key differences between regular and deep cleaning and when to choose deep cleaning for a true refresh.
What is Deep Cleaning?
Deep cleaning takes cleaning beyond the surface level to deeply clean the whole home from top to bottom. This comprehensive service includes tasks like:
Scrubbing floors, walls, baseboards
Cleaning blinds, fans, light fixtures
Washing windows, mirrors, doors
Dusting furniture, shelves, and knick knacks
Cleaning appliances inside and out
Scouring bathrooms and kitchens
Washing curtains, bedding, slipcovers
Sanitizing surfaces
Professionals use powerful tools and disinfectants to remove allergens, dirt, grime, and germs that regular cleaning misses. It leaves behind a spotless, purified home.
Deep cleaning often takes multiple visits to complete and costs more than a regular cleaning. But it gives homes a true overhaul.
* Check our Deep Cleaning Service in Ireland
What is Regular Cleaning?
Regular cleaning, often called maintenance cleaning, takes care of everyday dust and mess. Professionals come at the same interval each month to do upkeep cleaning.
Tasks completed may include:
Vacuuming floors
Mopping hard floors
Dusting furniture and decor
Cleaning bathrooms
Changing bed linens
Tidying up clutter
Taking out trash
Sanitizing kitchens
It hits the high traffic areas and essential maintenance that needs frequent attention. This keeps homes looking presentable in between occasional deep cleanings.
When to Choose Deep Cleaning Services
Deep cleaning gives homes a detailed scrub-down from ceiling to floor. While regular cleaning maintains tidiness, deep cleaning is necessary at times to purify homes.
Here are common situations when deep cleaning services are recommended:
Moving Into a New Home
When moving into a previously inhabited home, a deep clean helps remove all traces of the past owners and reset the space. It also sanitizes the property before you move your belongings in.
Prior to Listing a Home for Sale
Deep cleaning prepares homes for showings by making every room spotless. Clean windows, scrubbed floors, and sanitized kitchens and baths help buyers picture themselves in the space.
After Home Renovations or Repairs
Construction kicks up a lot of dirt and debris. Once projects are complete, a deep clean clears out dust and grime for a finished look.
Seasonal Deep Cleaning
Doing a deep clean each season or biannually keeps your home in shape. It tackles messes that regular cleaning misses.
Preparing for Guests
Holidays and house guests call for an intensive clean so everything looks immaculate. Appliance detailing, floor scrubbing, and more gets your home guest-ready.
Health Concerns
For family members with allergies/asthma or when illness strikes, deep cleaning removes allergens and sanitizes to promote health.
When Regular Cleaning Services Are Ideal
Regular cleaning maintains homes between deep cleans. Here are situations when regular cleaning services make sense:
Busy Schedules
For those stretched for time, regular cleaning is ideal. Professionals handle the regular tidying for you so you gain free time.
Clean Homes
Homes that are already in good shape may only require maintenance cleaning to upkeep the tidiness between deep cleans.
Limited Budget
Regular cleaning is cheaper than deep cleaning. For those needing to watch costs, it keeps homes looking nice affordably.
Weekly Cleaning
Some opt for professional cleaners weekly or biweekly to take over small upkeep between their own deep cleaning sessions.
Only High Traffic Areas
If you deep clean most of the home yourself, hiring cleaners for high traffic hot spots like bathrooms can supplement.
Making the Best Choice for You
When deciding between deep vs regular cleaning services, consider your home's condition, schedule, budget, and cleaning priorities. Deep cleaning gives homes a thorough overhaul, while regular cleaning maintains tidiness in between.
For most homes, a combination of both is ideal. Regular cleaning keeps order week-to-week or month-to-month. Periodic deep cleaning then rejuvenates the entire home. Figure out the right balance for your lifestyle.
If you need help keeping up with deep cleaning in Dublin, Kildare, Meath or Wicklow, contact our professional house deep cleaning service today.