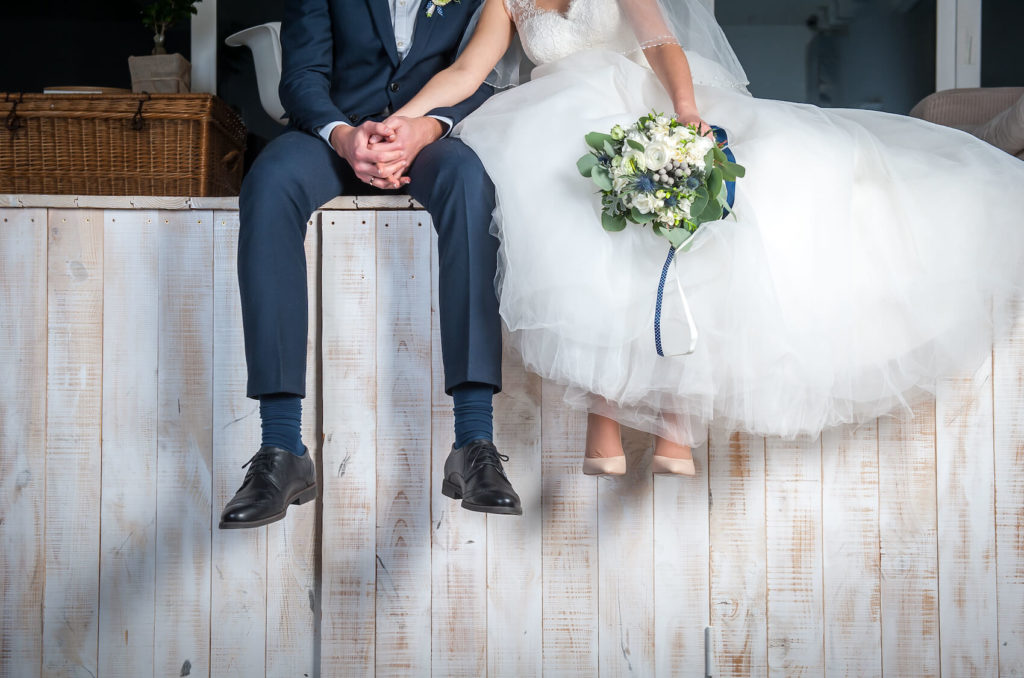 Organization Is The Key
As they say, prevention is better than cure. Try your best to keep everything clean despite the whirlwind of preparation. It will be a tough challenge, but your future self will thank you if you keep your house as organized and as clean as possible.
Weeks before your wedding, ensure that you have things organized in your home. It might also help to declutter a bit. The fewer objects there are in your house, the less likely it will become a mess.
Then, put everything in their proper spaces. Allocate space for towels, bedsheets, and anything that you can categorize. Make sure that the ones you need are always accessible, while you can safely hide away things that you rarely use.
Avoid Clutter
Clean up after yourself. Untidiness is often caused by people failing to put their things away, even if this seems like a common sense tip. Make a quick sweep of each room to see if there's anything you can grab and go.
Everything you wear, use, or move should be returned to its proper place. For the time being, it's perfectly acceptable to leave your shoes and shirts by the front door, as well as your dishes in the sink. Keep in mind that even the tiniest of piles can quickly balloon into a major mess.
In the middle of wedding preparations, the least you need is to schedule a full day dedicated to cleaning the clutter around your home.
Clean Your Furniture
Aside from your regular sweeping and dusting, you also need to ensure that your upholstery is spotless. Vacuuming your upholstered furniture on a regular basis is the most important DIY upholstery cleaning tip.
Upholstery fibers can be ruined by dirt, which does more harm than good. Use a stiff-bristle brush or an upholstery attachment with a clean, dry surface to remove any dried dirt or debris. For those difficult-to-reach crevices, turn to the crevice tool.
Follow the manufacturer's instructions and fabric cleaning code when cleaning upholstery.
W indicates that water can be used;
S stands for skip water so use non-water and alcohol-based solvents instead. Apply a light mist and wipe away with a white cloth or sponge after a few seconds;
S/W indicates that you can use either solvents or water;
X indicates that you should only use a vacuum.
Focus on the Living Room
Consider making your home as spacious and comfortable for your guests as possible during the wedding festivities. Clear the room of any big furniture that might get in the way. In order to create a welcoming atmosphere for your guests, you can even bring in plants and flowers.
Bring in scented candles or essential oils for maximum comfort if you want to benefit from aromatherapy. We'll all benefit from the calming effect this will have on our bodies and minds.
Don't Forget the Carpets
A simple vacuum will do if your carpet is brand new. But if it has been a while since you bought it, then it might be time for carpet cleaning.
Some houses need carpet cleaning more often, especially if dust easily accumulates in your home.
According to brandongaille.com, deep-cleaning your carpet every 12 to 18 months is recommended to keep it looking and performing at its best. Be aware that this recommended frequency is only a general guideline and can change based on your individual circumstances.
Spa-Like Bathroom
Sure, you don't normally have scented candles and a bathtub caddy in your bathroom, but if you're having guests over, make sure that they will only have the best experience.
Transforming your bathroom into a home spa can give a positive impact, which is necessary especially if you have your in-laws coming to visit. You can find some inspiration on Pinterest boards on how to make your bathroom feel like a spa.
All you need is a few tiers of open shelving on your walls, some baskets for your toiletries, and a few decorative accents. You should also include an extra set of towels if you will be having visitors stay for the night.
In an instant, you have transformed your bathroom into a spa.
Rent Items Instead of Buying
You'll almost certainly require additional supplies to accommodate your visitors. You can save a lot of money if you rent items like dinnerware, wine glasses, tents, and decorations. By doing this, you can avoid having to spend a lot of money at the last minute and then having to store all of the new items that you acquire.
This will also lessen the clutter that you need to keep in your house once the festivities are over. Make sure that you're only getting the important things so that everything is easier to organize once the big day arrives.
Clean the Outside Too
Organizing and cleaning the interior is simple, but keeping up with the exterior can be more difficult, but just as important. Your front yard is the first thing that people will see. And as they say, the first impression lasts.
Get rid of any clutter in the area;
Maintain a clean backyard and home;
Make the house sparkle;
Clean every nook and cranny and making sure all surfaces are spotless before their arrival.
Grass should be mowed a day in advance so that it has time to dry out. Clear the path with a leaf blower to remove any stray debris. Make sure to trim any bushes, rogue tree limbs, or dead flowers while doing spot landscaping. On the day of the wedding, the wind will undoubtedly blow debris into your yard, so do a final spot check a few hours before the ceremony.
Prepare Simple Meals
Maybe you are craving some delicious food after a stressful day. But cooking is the last thing on your mind right now, especially if you're expecting a large number of guests. Cooking complicated things and having to clean up after will take too much of your precious time.
Before your guests arrive, make plans for some simple meals and snacks that you can serve them if they're hungry. Slow-cooker recipes are a convenient way to cook nutritious meals that require little time or effort.
It's better to have the meals prepared before they even come to visit. This way, you can buy everything you need and you don't have to go to the supermarket every now and then. Keep some healthy snacks on hand in the kitchen for guests to nibble on during those hectic, hectic days of the wedding preparations.
Safe Place for Valuables
Keep your valuables in a safe place. This includes things like photo albums, jewelry, shoes, awards, and others. Weddings can be a logistical nightmare because there are so many people coming and going, like the photographers.
Use an empty room during the ceremony to store your valuables to avoid any accidents that might ruin your otherwise perfect day. During the ceremony, it might also be ideal to have a similar space accessible to some of your close family members so they don't have to worry about their own belongings.
Deep Cleaning
Between the endless phone calls about the sitting arrangement and the minor setbacks with the preparation, deep cleaning your house is the least of your concerns. But it is a must-do especially if you'll be having guests over after the ceremony.
It's now time to go a step further than you already do when it comes to washing your duvet, bed skirt, and even your mattress. Simple cleaning will not be enough, especially if you want people to have a great impression of you and your home.
Clean and store your bedding properly. The nozzle from your vacuum can be used to remove dust, dirt, and hair from your mattress. The stains and odors can then be removed with an upholstery cleaner. Baking soda mixed with a few drops of essential oil works well, too. Allow it to sit for an hour before vacuuming it away.
You should also scrub your kitchen clean. You can use dish soap to brush your kitchen tiles then wipe them with wet fabric afterward. You should also clean your kitchen sink. Using one cup of baking soda mixed with 2 cups of vinegar can remove stubborn dirt and stinky odor from your sink.
If you live in Dublin, Everclean can help you with deep-cleaning your house.
Final Thoughts
If all of the above sound stressful, that's because they are. There is nothing easy about wedding preparations. The good thing is that there is an alternative if your house gets too messy during these hectic days.
You don't want to spend the night before the wedding cleaning the kitchen floor in an effort to keep the house clean. Hire a professional cleaning service to get your home in tip-top shape and ready to impress your guests.